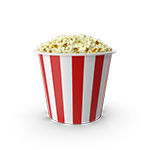 | | |
| --- | --- |
| Adult | $10.00 |
| Military & Senior | $9.00 |
| Children | $9.00 |
| Matinee Adult | $8.75 |
| Matinee Children | $7.75 |
| Matinee Military & Senior | $8.75 |
Before purchasing tickets online, please review the following policies of Emerald Plantation Cinema
1) All ticket sales are final. No refunds/no exchanges.
2) Tickets sales are good for seating purchased only. Must be used for the exact date & time for which it was purchased.
3) Tickets are good for one seat per ticket. We do not sell group seating. Emerald Plantation Cinema cannot guarantee seating together regardless of how many tickets were purchased in the transaction.
4) We recommend that you arrive at Emerald Plantation Cinema at least 30 minutes prior to showtime for prime seating.
5) Emerald Plantation Cinema R-rated policy states that all patrons attending an R-rated movie must present a photo ID showing a birth date. No one under 17 is allowed in an R-rated movie without a parent.  When redeeming internet purchased tickets to an R-rated movie, all patrons attending the movie must be present, must present ID and must have their hands stamped.
6) Tickets purchased that do not follow Emerald Plantation Cinema R-rated guidelines will not be refunded. For complete information regarding our policies and ratings enforcement visit our policies page.
7) Internet purchased tickets must be redeemed at the Emerald Plantation Cinema box office or the first register inside the lobby.
8) For the enjoyment of all patrons, everyone is asked to turn their cell phones off as they enter the theater.
9) All online ticket sales require a $1.25 per ticket surcharge
I have read, understand and agree to abide by all of the above policies as well as the R Rated movie policies of Emerald Plantation Cinema.